Oil Sight Glasses
The Oil Sight Glass product line consists of the original Oil Sight Glass, the Oil Sight Glass & Level Monitor,  the Oil Level Indicator, and the 3-D BullsEye. Products available through our partnership with Esco Products, Inc. provide lubrication management professionals with a complete and immediate visual oil analysis.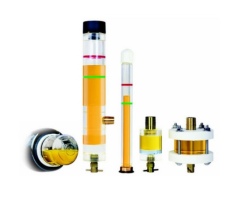 The Oil Sight Glass is a clear acrylic cylinder that installs in the drain port of the oil reservoir of pumps, gearboxes, bearing housings and other lubrication-critical pieces of equipment. It provides continuous fluid monitoring of clarity, color, sediment, and water contamination. The drain valve allows for discharge of accumulated water. These products enable personnel in many industries to constantly manage the condition of their oil.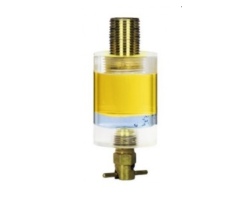 Esco Single-Piece Oil Sight Glass
Machined out of one solid piece of acrylic, this heavy-duty design eliminates any bonded parts that would wear out over time.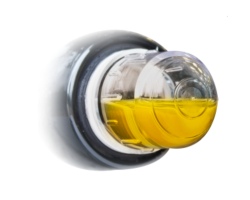 3-D Bullseye Oil Sight Glass

The innovators at Esco have improved upon the old-fashioned sight plug with the creation of a replacement sight window called the 3-D BullsEye.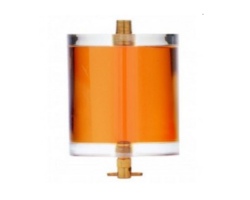 Large Volume Oil Sight Glass

Commonly used on large oil reservoirs, or on equipment operated in environments with regular high pressure wash downs or high condensation problems, where water contamination cannot be avoided or minimized.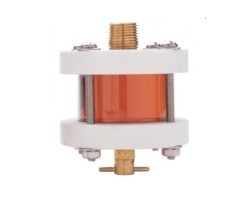 High Temperature Oil Sight Glass

The High Temperature Oil Sight Glass is your answer when radiant heat from nearby equipment or unusually high operating temperatures.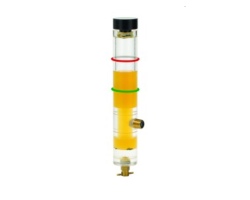 Oil Sight Glass & Level Monitor

The Oil Level Indicator (OLI) was developed in response to the need of maintenance professionals to gauge the oil level inside large tanks, gearboxes and reservoirs.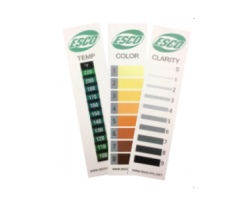 Magnetic Oil Monitors
(MOM) kit contains three durable magnetic strips that adhere directly to equipment, and provide real-time feedback on oil temperature, color, and clarity.